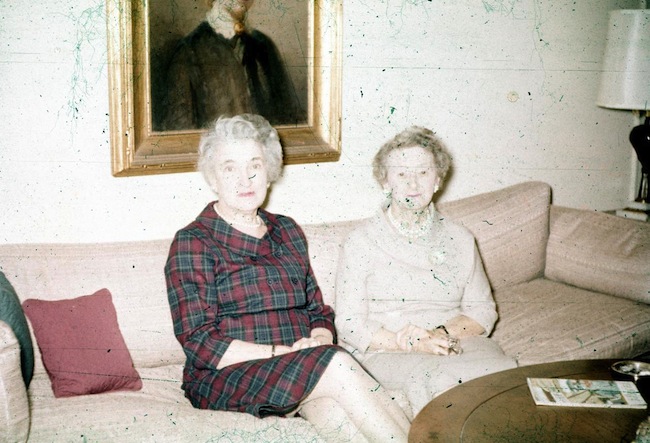 I was wrong about spring being here which is no surprise (there was one more snow) but this week has been nice. I even took my bike to the transfer station along with a tiny bag of trash and that was good for a few laughs from the pickup truck brigade. A few things have happened this month since I got back from Kansas. I did my last (3rd) talk for the season in Plymouth New Hampshire. Went well and I had a good time. I want to put together some "What's what in copyright and fair use" talks for next season. I also took a few trips down to Massachusetts, see family, Jim, dad's place. Counting the days til we can close the estate and move on in some actual way but everyone told me to be patient and I have been. A funny thing happened last week, along those lines.
As you may or may not know, Flickr did a big redesign recently. I'm on the fence about some of it, I sort of feel that being a person who lives on the web means I have to accept that things will sometimes change (as readers of my blog you have to accept that I redesign every half-decade or so). They also redesigned their account structure. Previously free accounts got space for 200 visible photos. If you uploaded one more, one would drop off (not deleted, just not visible) unless you upgraded to a paid account. Paid accounts got what basically seemed like unlimited storage. My dad had a paid account and had uploaded about 4000 photos that he'd had scanned from old slides, a lot of neat old family stuff some of it before my time entirely. I've been pretty good at paying bills that come due on the estate but that one escaped me. So suddenly instead of 4000 photos there were 200 and only the most recent ones. I wasn't sure of the login for that account (I have most of the others) and the whole thing was just weighing on me along with all the other "When is this huge stack of paperwork going to be over?!" executrix concerns. "Man, I should really take care of that…" I'd think.
Anyhow. The redesign/reconfiguring meant that all of the sudden, nearly two years to the day after my dad died, all the free accounts had unlimited storage which means all the old photos came back. And the timing was good. And I spent a lot of time clicking around looking at photos of my family when they were younger, from before I was born, when my dad was just a kid. This is a photo I'd never seen before, it's my grandmother's stepmother who we always called Nana and my grandfather's mother Agnes Wylie West who I never met who was from Vermont. Both from my dad's side. It's not quite "awesomepeoplehangingouttogether" but in jessamynworld it sort of is. There's a photo on my mom's Flickr page that might have my other two great-grandmothers at a photo of her parents' wedding.
I was having a great talk with my friend Joe from college yesterday about how wonderful it is to be basically middle-aged. I like feeling I know who I am. I like having the health and the resources to do the things I want. My slightly fading memory is more helpful than harmful at this stage. I enjoy my nerdy hobbies. I have interesting friends. He pointed out a thing that I had somehow never noticed–and that probably everyone knows about me but me–which is that I've sort of always gravitated towards "things that older people do" for lack of a better term and then been really interested in those things and excitedly sharing them with other people. Blogging and Twitter nonwithstanding, I could list a handful of examples off the top of my head: The 251 Club; The Odd Fellows Hall; being a Justice of the Peace; my roommate/landlady situations; town parades; terrariums. I'm not really sure what it is about any of those things, and never noticed a trend at all until he had pointed it out, but I think it bodes well for future me.