an occasional feature
April
4/29/97

Ever wonder where Pez came from...? I have new girly hair [well, not quite] and a new girly bathroom and have been ministered to in a beauty salon for the first time since 1986. A complete stranger looked me in the eye [and elsewhere] and said "you're stacked" in downtown Seattle.
I have added two new pages to this ever-growing site I call jessamyn.com -- a Jessamyn West info page and a Jessamyn Clearinghouse. Check them out.
Today I unscrewed everything that could be unscrewed from the walls of my bathroom and have painted them all a dark green-black high gloss enamel. I love to paint. Does anyone know what "mineral spirits" really means?

Anne and I went to see the floating bookstore down on Pier whatever. The place sells your basic books along with a whole lot of Christian texts of various sorts. The boat, the Logos II travels around the world, staffed by volunteers, spreading the word of Jesus &c. We didn't buy anything, but it was an interesting trip. The first homepage that I found talking about this boat was www.om.com. Then we went to the local Home Depot and I bought three gallons of weird-colored paint for $7.

I spoke with the snooty hair salon this week and they are going to make my hair a vibrant red with blonde tips, if they can get past all the washers.

I'm going to be a hair model at our local snooty hair salon where I went with my friend Jenny the other day. She got an $18 bottle of conditioner in a funny color with a funny smell and they asked her if she wanted to name it. Indoor fountain, you know the type of place. Anyhow, I need to get out more, so I'm going to be a hair model for their Earth Day celebration/fundraiser. I said they could color it but not cut it. Seems reasonable.
Speaking of Earth Day, when I was in Romania, there were huge Earth Day celebrations and they were all sponsored by Ajax. Keeping the world whiter than white for 50 years.
WANTED: HIPPIE MOP BOY
for caretaking assistance. Me: comfy couch, dreadlocks, clawfoot tub, librarian. You: mopping ability, love of old buildings, long hair a plus. Will barter for services. Could we be friends?
I passed my six month review with the Odd Fellows with flying colors. They were so happy that I found the leak in the basement before all their gear was underwater that they told me to dust more and said "we hope you stay a long time" which I intend to. Hard to knock free rent. In fact, I now get to contact five different plumbing companies and get them to place bids on replacing our entire circa 1927 plumbing system. This place is going to be crawling with plumbers!

Speaking of plumbers, I just did an Internet Movie Database Search for plumbers and found that most of the films featuring plumbers in the title [of the non-porno variety] were made before 1935 -- 10 out of 13. Do you suppose the plumber used to occupy a vastly different place in our social consciousness?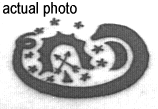 This is what I did today, mostly. My I'm-in-love-with-everyone Spring Thing is wearing off, so I was a bit ornery and, thus, my tattoo left me near-writhing in pain which was surprising [and after such a good dentist appointment, too]. Jack and I went to the Lucky Devil Tattoo Parlor and Auto Detailing shop

and my tattoo artist was a chain walleted guy with a deep voice who sang along to Tom Jones as he worked. I have a very ticklish back and more than once he had to say "You really should try not to move..." which I was, of course. Jack got a groovy tattoo as well, his first.
Here's an approximate mapping of my new tattoo's home. Note: this is not my back
4/8/97


I saw Crash this weekend and was the only one in our group of five to like it. I thought it was erotic, creepy and a lot like the book and generally enjoyed it, which I wasn't even really expecting. Today I went to the dentist for some actual pain, body modification and anxiety and was let-down; my visit was completely pleasant and I think my mouth is in better shape than it was before.
The picture is of the tattoo I'll probably have by the time you read this.
4/5/97


I showed the hall to some people who do a dance workshop where everyone is blindfolded. Some sort of meditative stuff. The guy who was going to do the tantric sex workshop didn't show up, much to my chagrin. There's still a Mayan lecture series in July and an all-day belly dancing workshop tomorrow.
I woke up at 8:00 this morning [despite somehow setting my alarm for 8 pm] and planted trees in Ballard with my rad friend Anne. Free T-shirt, bagels and bowling coupons! One of the better things I've done lately.
I received a message in code. It's always nice to receive a message in code -- especially if it's not too hard.
4/3/97
According to the wacked out lady at the bus stop today, the bus drivers in Ballard spend an extra long time on break so we'll all get murdered waiting for them. We will be murdered by the Crips and Bloods who, accoring to my source, were brought into this country by the Americans in order to break the labor unions. This is, so far, my favorite conspiracy theory of 1997.
4/2/97


April 1 came and went without me feeling unduly terrorized by people who think they have a more advanced sense of humor than I do. In fact, I spent most of the day on the phone with well-wishers and friends and those other members of my set beset upon by Spring.

---
Go to March