31dec00 .. . can't sleep, clowns will eat me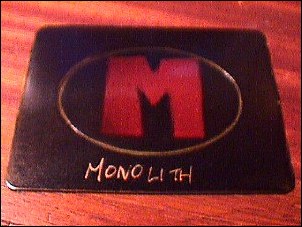 30dec00 .. . if there's no dolphins, i say to hell with it
Details of my Alaska vacation are here. I am very tired, despite doing a whole lot of nothing for the past week and the floor still seems all wobbly.
22dec00 .. . running from the holiday season as fast as i can
Tomorrow I get a ride up to Bellingham and my sister and Todd and I get on a ferry to Alaska. The trip is about three days up and three days back with a few stops in between.
Last night I went to Chez Wally and helped him make Glug which is some holiday liquor made out of various other liquors. It tastes like you are drinking a fruitcake. Any drink that you make that involves lighting it partway through can't be all bad.
The Yukon Song
We're abandoning this life we've led!
So long Mom and Pop!
We're sick of doing what you've said,
And now it's going to stop!

We're going where it snows all year,
Where life can have real meaning.
A place where we won't have to hear
"Your room could stand some cleaning."

The Yukon is the place for us!
That's where we want to live.
Up there we'll get to yell and cuss,
And act real primitive.

We'll never have to go to school,
Forced into submission,
By monstrous crabby teachers who'll
Make us learn addition.

We'll never have to clean a plate
Of veggie glops and goos.
Messily we'll masticate,
Using any fork we choose!

The timber wolves will be our friends.
We'll stay up late and howl,
At the moon, till nighttime ends,
Before going on the prowl.

Oh what a life! We cannot wait,
To be in that Arctic land
Where we'll be masters of our fate,
And lead a life's that grand!

No more of parental rules!
We're heading for some snow!
Good riddance to those grown-up ghouls!
We're leaving! Yukon Ho!

17dec00 .. . others can be more interesting than me -- from the mailbag
"I had jury duty today, and so did Ralph Nader. Weird because I had thought during the election that some issue came up about him being registered to vote in -- and presumably therefore considering himself a resident of -- Connecticut. But maybe he switched his residency after the election. I was dismissed while he was still in a courtroom, so I don't know if he actually served. probably not. one guy standing next to me said when he saw Nader -- 'I should go shake that man's hand -- I'm a Bush supporter, and he put my man in the Oval Office.' A few minutes later I heard another woman on her cell phone saying: 'I just wanted to go over and kick him in the balls. I still can't believe he was so self-centered that he was willing to give Bush the White House.' With sentiments like these, probably not a wise idea to have him on a jury -- bad for juror dynamics as they say...."
"He had a young white "radical" male minion sitting on either side of him, making cell phone calls for him, as he read the Post and the Times and spoke in hushed tones to the two boys. definitely the only person on jury duty who had brought anyone with him. and I heard he arrived slightly early -- so he was there before 8 am even though everyone in DC will tell you you don't have to be there at 8 because the line is so long they don't get through signing everyone in until 10 or 11."
15dec00 .. . roofer news, etc.
"Due to the failure of the Plaintiff to file a Statement of Questions within 30 days this case is hereby dismissed". I can't really believe this is still going on. I know I will be saying that to myself in six year when I am still cashing $50 checks from the evil roofers every month.....
My office is having a Christmas party this weekend. I don't go in for Christmas much, but no one else I hang around with does either, so it's stopped becoming any sort of a hassle. Friends and family understand that any gift giving will generally be a one-way deal and we don't have any family traditions to uphold, no good ones anyhow. I've saved Christmas and I've ruined Christmas in the past so I guess I've got nothing left to prove. Last year was the first time I've really spent Christmas alone and I quite enjoyed it. I've stopped telling people I'm Jewish because -- while technically true -- it often brings the response "well, Happy Hanukah then!" which is always a tooth grinder for me, though not as much as "I don't think Christmas is really about Christianity" This year I plan to be on a boat.
I got to work late today after a nice visit to San Fran where I caught the St Bushmills Choir at the CW and saw some santas in the Castro with a megaphone saying "SANTA NEEDS A CAB!" So, I worked late. So, I was walking the six or eight blocks to the bus stop at midnight. A bus pulled up next to me and opened its door. The bus was all dark and clearly said it was heading to Metro Base but the driver let me get in and took me the few blocks I had to go to the stop I was going to. When I stood up to leave the driver said "Oh, are you getting out?" I think if I had asked, he would have taken me all the way home. My own personal Cat Bus.
05dec00 .. . the spinning makes me giddy and a little nauseous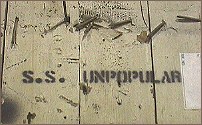 I guess the question shouldn't be "why do I have so little free time?" but rather "Why am I not reconciling myself to it?"
Santa Rampage was more fun than I could possibly have imagined, and now I'm pretty much done with the Christmas Season. Except for maybe the office party next week. I also got a chance to go see some wrestling mayhem this weekend in which pre-planned wrestling acts [including Santa versus Jesus] were interspersed with pickup matches [including Girl and Rabbit versus Girl and Rabbit, as well as Matt versus His Three Friends]. It's nice, as I've said before, when the world of my dreams occasionally creeps into the world that I live in.
This weekend I go to San Francisco to touch base with some friends who haven't seen me since the accident, as well as to force myself to not work for a few days. There may be a santa event. The weird thing about having a job you can do from anywhere with an Internet connection, as well as a job where there's always more work to do is that if I do have free time, or can't sleep or whatever, I tend to log on and see what the damage is. I need to get over this and knock that off.
03dec00 .. . got a new nipple ring
01dec00 .. . day without weblogs

In observance of World AIDS Day, this is a Day Without Weblogs.