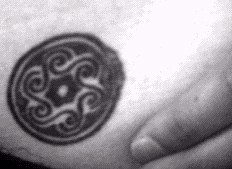 i'm an academic librarian and i decided to get this 5 years ago in the midst of a total emotional/mental crisis and a feminist theory class. i got it there so no one will ever see it unless i want them to and that the design has no significance but the getting of it does. and its like a birthmark now. and yes the actual tattoo is a little fucked up but i like that and hopefully it won't stretch too much if i have a baby. yes it hurt down there, but i think its supposed to, right? and i want more, but it probably won't happen.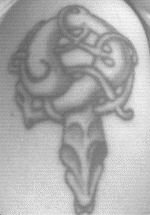 I wanted a tattoo ever since my mom used to read Easy Rider when I was a kid. I was always worried about the permanency of the whole deal but found this image in the library [where else?] and kept it on my wall for about four years until I decided that it was the one I wanted.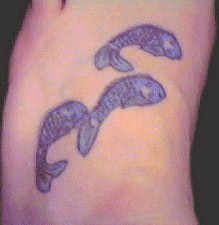 I'm the kind of person that tends to decide things quickly. I got up one day and said "I think I want a tattoo now!" After that it was pretty simple-I'm a pisces so fish were a natural.
---
go back home