Happy birthday to my favorite [and only] sister Kate whose age is now, for the second and last time in her life, a fifth power.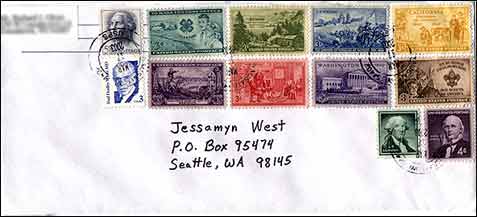 I buy stamps for cheap off of eBay sometimes. I don't know why people sell perfectly good stamps below face value when you can always use them to mail letters. I suspect there are people who don't send enough mail. I have a bad feeling that sometime in my lifetime we won't be able to send nutty overstamped letters with old stamps like this anymore.
In other federal matters, I filed my taxes today. When I clicked on the "compare your return to others" link, I was surprised to discover that fully 30% of people who filed income tax in 2000 made in my same bracket, from zero to 15K. That seems low to me, hard to pay rent, get ahead, etc. I don't kid myself into thinking that I am poor just because I have a low income; I have health insurance, good dental care, a roof over my head, good food to eat, and a huge support system if any of those things fall through. Poverty covers much more than just presence or absence of spending money.