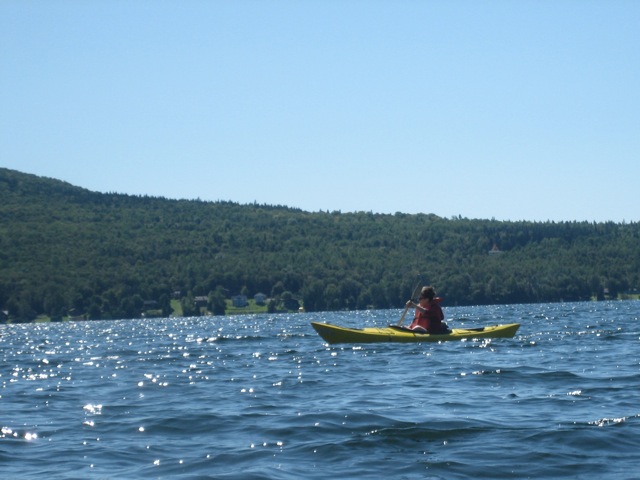 There's something pleasing both with leaving 40 behind and having an age that is a prime number. I'm in the depths of a writing deadline so I've been scarce since the scarcity of being gone all weekend. Now I'm in the procrastination phase of my writing deadline so I'll make some notes here.
Hey, I turned 41! I had a really nice birthday weekend. Unlike last year which was a frenzy of friend-oriented activities and houseguests and cake and not much sleep, this year was all about getting out of town and taking a lot of naps. Jim and I went up north to stay at a little lodge on Seymour Lake. We figured while we were there we'd try to
– go to Canada for ketchup chips and ground cherries
– get a lot of rest
– go kayaking
– hit some of the towns that are still blank on my 251 Club list
– go muck around in nature
Which is pretty much what we did. We stayed in Morgan Vermont. Tried and failed to go to Lewis, Averys Gore and Warner's Grant (got all the way to the one paved road in only to find gates there; I'll have to go again when I'm prepped for hiking). Did a lot of driving and looking at things. Stepped over and drove over the Canadian border. Got a lot of sleep.
I'd show you a ton of photos, but I dropped my camera in the lake. Amusingly, my already-purchased-but-not-yet-delivered birthday present was a new camera. So, everything is fine. I mentioned over on librarian.net that I've got a slightly different job configuration for this school year but things are mostly the same. The same and good.
Also, towns that I still need to visit: Arlington, Benson, Cornwall, Dover,Franklin, Granby, Hubbardton, Jamaica, Lewis, Maidstone, Middletown Springs, Pawlet, Pownal, Readsboro, Rupert, Sandgate, Searsburg, Sheldon, Somerset, Stamford, Stannard, Stratton, Sudbury, Underhill, Wardsboro, Wells, West Haven, Weybridge, Whiting, Whitingham, Wilmington, Windham, Woodford