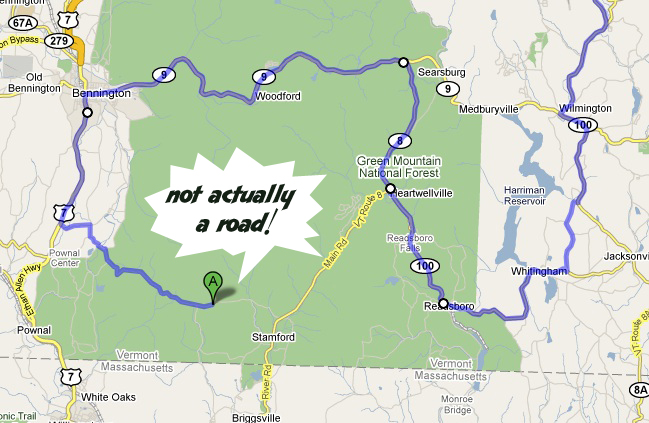 Because I have a rich online life, I sometimes have to nudge myself to have an equally rich offline life. I've been finishing a few more books lately, and yesterday I went for a drive. I have a family friend, who turns out to be a relative, who is 96 and who I just learned was a sort of neighbor. That is, he lives in Vermont which is neighbor enough. I made a plan to go see him saying I was going to be more or less in the area and made a plan, then, to be in the area. My relative is Irving Adler, my second cousin twice removed. He is 96 and he has strong opinions about health care. I spent some time visting with him and then did some catching up on the 251 project I've been working on for the past five years or so.
To catch you up, I want to visit all of Vermont's 251 towns. I'm 90-someodd percent there. Before there was a widget for everything, I made my own web page to track my progress. I have a Delorme gazetteer that I cover with highlighter pen to track where I've been. Now there's a widget that sort of does what I want but like all widgets, it's imperfect. Through some concerted efforts and marathon driving, I went to sixteen new towns yesterday, though I missed three — Middletown Springs, Somerset and Windham — that assure I'll be going back. The widget says I am 94% complete. The widget does not track gores and grants.
The gazetter is also imperfect. Even though I crosschecked with Google maps to see that the road that they said was a road was, in fact, a road, it was not a road. It was a road up to a point and then the road became a riverbed and then the riverbed became a footpath for goats. I turned around, which is awkward when you are in a car on a goat footpath. The nice people with 4×4 trucks, beer and few teeth were incredibly nice to me as I drove back past them and asked politely if the road I had been trying to drive on was, in fact, a road. "Not for that car!" they told me. I think AWD is sort of hot shit until I hit roads like this.
You can see my rough route in these two google maps (down, up). I checked my email twice during the day, once from the burrito place and once when I pulled over to take some photos of a nice looking lake. I pulled out my laptop to use my EVDO card to "check my web" and I saw that there was a nice four-bar signal coming from … someplace, called linksys. Now I've got 2-4 towns to visit in each quadrant of the state including the vexing Lewis which I swear can't be reached by road. If anyone would like to go on a doomed hiking trip with me sometime in early spring, do give me a call. I can't guarantee success, but there's a 90-someodd percent chance of fun.