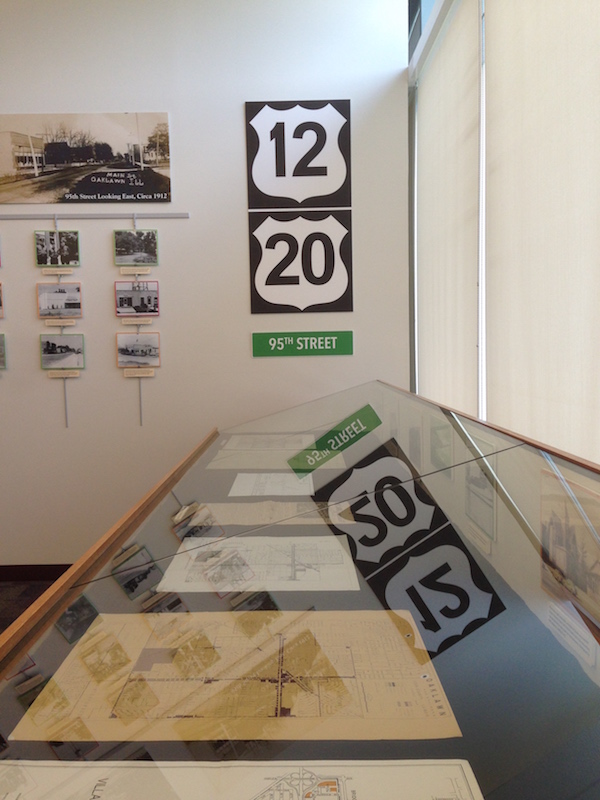 So hey I went on a ten day vacation where I did NO WORK. I'm fairly certain I haven't done this since I started working at MetaFilter, so that's over a decade. I had someone filling in for me at the Archive and I'd wrapped up everything else. I didn't do anything crazy like ignore my email, but I basically just vacationed and didn't work. I'm not even sure I know what to do with this level of nothing-to-do but it went well! Here's a wrap-up which stands in for any liveblogging sort of thing. I put some photos up in this Flickr photoset and you can see a few at-the-moment notes from me and Kate on Twitter with the #WestOn20 hashtag.
The loose outline of the trip was this: Kate and I picked up Jim on the 5th of July and headed West on Route 20. We dropped him off in Chicago to fly home and then kept going for another day and a bit and turned around and drove home using quicker routes. Here are the specifics. Anyone who still uses Swarm/Foursquare can maybe see my history there (or not, unclear how that works). Here's some notes from memory. Part of doing the vacation right was, to me, not viewing it as a blog-for-later.
Day One – Home to Albany
We decided to not be hardass about this and not start from the very beginning. Since we're doing this in stages, we'll do the "Boston to Belmont" stage last probably. Maybe by then there will be a sign to mark the beginning. We picked up Jim and got on Route 20 and drove over a lot of familiar territory between his place and Central MA. Once we got towards the center of the state there was a lot more new territory and we saw a few Historic Route 20 signs which are part of a push by some folks in Massachusetts to better document the history of this coast-to-coast highway. By the time we were feeling somewhat peckish and looked around for a non-Dunkin coffee shop and cruised into an Italian Bakery Dreamscape just in time. Thus fortified we continued on and got to our quirky AirBnB not too late and had takeout food while we plotted out next move. Did not watch and of the giant televisions.
Day Two – Albany to Buffalo
Up with coffee for me and Kate while Jim got a little more sleep. Little did we know that Jim was incubating Lyme disease and would steadily feel tireder as the trip went on. Poor Jim! We walked around Albany and were on the road not too late. Main stop was at The Tepee, A Cherry Valley (NY) roadside attraction where we got postcards and ate hot dogs and chili from the family who lived just over the hill behind the place. More driving punctuated by a stop in Cazenovia NY, the library with the museum and the mummy (and the cat!) as well as a stop for coffee and mailing some postcards. Buffalo driving as the last part of a long day was a bit of a challenge but it worked out fine. Had dinner at a diner and got to our AirBnB late but not too late. Host was absent, left the key in a lockbox and we enjoyed chilling in a pretty empty well-air conditioned place.
Day Three – Buffalo to Huron OH
Morning at the diner! We decided to find a place we really wanted to eat breakfast and went to the cash-only Woodlawn Diner which was terrific. I got grits and I don't even remember what else. Great food and a way to fortify before the long day of driving ahead of us. Which is good because today was Cleveland Day. Route 20 goes right through Cleveland and we hit it at rush hour. Which meant a lot of stop and go traffic, for several hours as we went right through the middle of the city. Did I mention there was a concert playing? And people setting up for the RNC? And Jim (who was driving) had Lyme disease? All in all we soldiered bravely through it but I think we all agree that it was a trip low point. We were searching for donuts and just found traffic. The good news was that this was the day we were winding up at a friend's place in Huron OH so we had no deadline to meet and we were taking the next day off.
Our friend's place was nothing short of amazing. Cute beach place on the shore of Lake Erie. We flopped out and had Italian food delivered (friend is a librarian, there was a menu in a drawer and "here is the address of this place" on a post-it on the front of it, the best!). We slept mostly soundly except for the train horns that sounded every 10-20 minutes until the wee hours. I barely heard them by the second night, I suspect it was road agita that was making them sound worse than they were. I slept in a bunk bed.
Day Four – Goof Day!
Nothing to do all day! I thought maybe it would be a day we didn't get in the car but we did wind up venturing out for dinner. We stayed home, went swimming, collected sea glass, caught up on email, tried (and failed) to buy postcards at the local market, though I did get some great incense. Jim played guitar. We headed out for an early dinner at the Czech place one town over (Spaetzle! Schnitzel!) and then came home in time to watch a HUGE storm roll through right after the various fireworks had ended. Watching the little glimmer on the horizon that was Cedar Point get totally blotted out by giant clouds was impressive. This was the day that Jim started feeling like his joints were maybe aching.
Day Five – Huron OH to Gary IN
This was a day of little detours. We must have had leftovers for breakfast because I don't see a restaurant on the list. We scooted in to Michigan just to say we'd touched down there. We popped in to a nature center to take a break and eat something. Then derouted in to Shipshewana because it looked interesting and even stopped by a thrift store there which was really unlike the thrift stores back home; lots of bonnets and hair management devices, lots of gentle romances. Jim got a free ride on the carousel in the mercantile for no reason we could figure out (we did not witness this). Our host was friendly and communicative and assured us that a late arrival was not a big deal so we stopped in Michigan City–the only town we wound up stopping by in both directions–and got BBQ, tacos, and a BLT at a pancake house. We arrived in Gary IN tired and sweaty and were pleased with our chilly and homey basement AirBnB. Jim hit a wall and went to sleep as soon as we got in, so Kate and I spent some time checking up on our internet and planning our trip in to Chicago the next day for not one but TWO meetups.