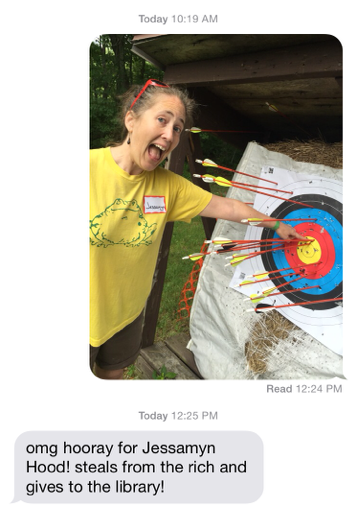 So thanks to my friend Andrea, me and Kate and my other friend Deb all went to a Women in the Outdoors program this weekend. It was a one-day event put on by a local (Auburn MA) fish and game club. You show up early in the morning and take wilderness/outdoorsy classes all day long. I learned to shoot a bow and arrow in a friendly supportive environment and even (once) got a bullseye! Kate took this photo. Jim supplied the color commentary. We did some other fun stuff like learned to identify turkey signs in the woods and build a makeshift shelter if you're trapped outdoors. Some of the best parts of the day were the parts that weren't even part of the actual classes we took: seeing a bunch of HUGE snakes swimming in the water and talking to trappers about "nuisance beaver work." It was also sort of fun watching the falconer try to get her kestrel out of the tree, but it may not have been much fun for the falconer.
So my continued efforts to Do Summer Right and stay offline a bit more and socialize a lot more have been going well. The accessory parts of the house–garage, garden shed, basement areas–have been organized. I feel much better doing this sort of thing when I feel it's me and my hobby and not me and my unpleasant tasks. We've been slowly de-accessioning some of the things in the house that are old, non-functional or just not for us. Anyone need a 15 year old 99 pound television set? I didn't think so, no one does.
Some of this is also distracting myself from the fact that I'll be teaching my first ever college class in August: HTML and CSS to about 30+ VTC students. The class is taught in a lecture/lab format which some people think is the way to do it and some people (including myself) think is nuts. But I'm up for trying it and I've been trying to maintain enthusiasm and excitement for this which is good for keeping anxiety and impostor syndrome at bay.
My other summer hobby appears to be lobbying to get the right person elected to the Library of Congress. I made a website called Librarian of Progress and recently wrote an article fleshing out some of those ideas. Ultimately this is probably the most important librarian job opening that will happen in my lifetime so I sure hope the people who are selecting the new Librarian of Congress make sensible choices and aren't just swayed by big companies who are lobbying out of greed and not concern for the cultural history of the country. The thing about the big political machines isn't really the voting so much–I also have an article I'm writing about my compromise position on anarchism lately–it's the machinations that never get voted on.