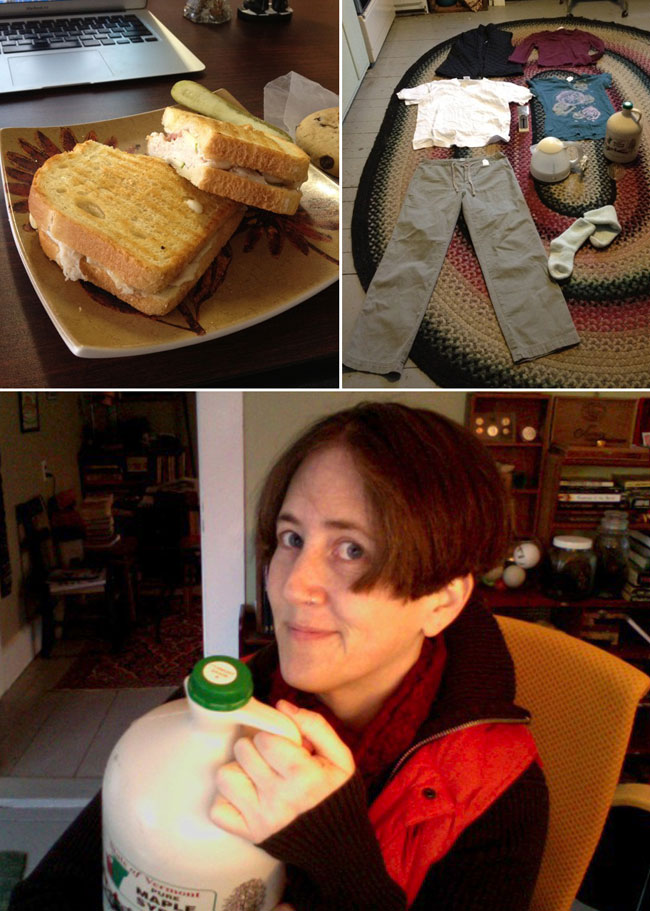 So this winter is a lot more like real winter than last winter. Snow. Cold. I broke my snowshoes and they are in (hopefully) for warranty repair. Which means I'm a lot more like a big hibernating bear, or maybe some smaller hibernating animal, perhaps a hedgehog. Sleeping a lot. Slow. Squinty. Muzzy-headed when I'm awake. Foraging for squash and other easy-to-eat foods. Doing a lot of communication that amounts to "Ug" and "Not-ug" (thanks to Andrea and Corey for this formulation, it's very helpful). Today I woke up briefly energized so I headed out into the world and spent some money and got some things done, tidied up my den. I have a Board of Civil Authority meeting tomorrow (Hear that, world? I AM A CIVIL AUTHORITY!) so I'm drinking tea and fumbling around with paperwork. Working on a mix CD that I'm sending out. I got a Kindle and I've been reading a lot. I feel like just holding up pictures to show you what I've been up to. But instead here's a price list of where the last $73 I spent went.
$12 haircut at the barber
$2 tip
$37 syrup (grade B, from the librarian)
$11 thrift store purchases including electric kettle postage scale, one whole outfit including fuzzy socks
$11 sandwich, soda and cookie at what I've taken to calling "the clip art cafe" because of their window display but maybe I should stop because this sandwich was amazing
Last night I went out to this thing that happens in Randolph, a Community Supper. Last Tuesday of the month a local organization puts it on and they provide food whether it's hot dogs or group-potluck or spaghetti. You get to eat a free meal, hang out with your neighbors who all look about as moleman-looking as you do, and have a good excuse to get out of the house. This month's host was the Bethany Church who put on a good event, over a hundred people as far as I could tell. It can be tough to stay connected to folks when everyone's snoozy or sniffly or snippy. It's nice to get out and be reminded that it's not just you.