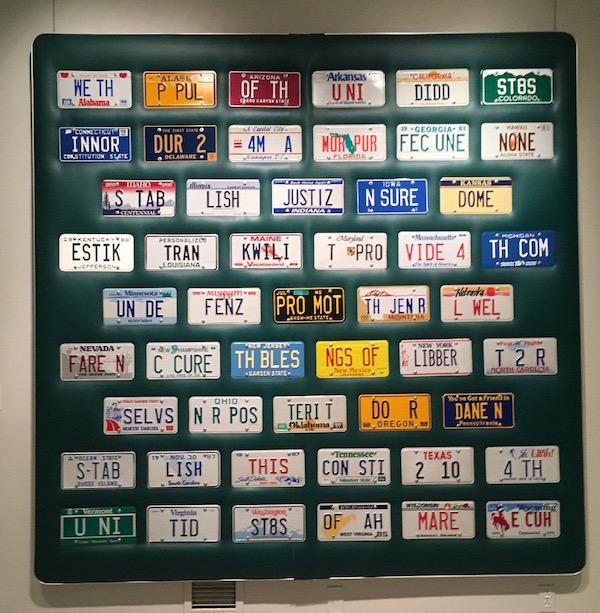 I did most of the things (books, tires, momhouse cleaning) from the last post. I am no longer mostly irritable and/or frightened, but managing this stupid mental health issue is still an open trouble ticket. Thanks to all who offered various kinds of support, I always appreciate it. We're now halfway through the holiday season (after Jimsmas and Thanksgiving and most of Hanukkah, before Solstice and Christmas and whatever New Years is going to turn into) and it's good. I went away and I came back and took some pictures while I was out (which is where this license plate photo is from). There is snow on the ground. There is a flock of pine siskins on my feeder. I finally cleaned out the grotty place around the kitchen trash can which was a coffee ground pointillist painting for months because I could not be arsed to get on my knees and handle it. I cleared the "to get to" stuff off of my standing desk, rewired the space underneath it, and put up a new light. Now I can use it after the few hours of daylight are gone and I'm up for another day's worth of time.
One of the people I checked in with about my mental health, when I would tell him about my days, said repeatedly "You do a lot." It was said in a way that seemed sort of suspicious, like it was a symptom of something, like I was maybe doing too much. All I know is that I've always been this way, it's nearly always worked, and I'm not sure of any other way to be, nor do I have any desire to explore other ways to be unless something is wrong. Maybe I talk about "doing things" a lot, listing out every errand, everything I clean up in my house. Maybe I have performative tendencies "Oh I am so busy!" but I know people who are like that, and I don't feel I am like them. I am reading a great book by David Sedaris, his latest, where he talks about talking to his husband's mother. She is a very reserved woman who doesn't believe in talking about one's good deeds publicly because it's like you want credit for them. I've always come from a family where you talk about all the things–the good things you did, the stupid ways you fucked up, the errors you made, the way you tried to fix them–and talking about some of the good things is, I've always felt, a way to encourage others to do good things too. The internet can make things weird, and people worrying too much about "virtue signalling" may be part of that.
Last night I worked at a party at the Chandler Music Hall. This involved mostly stocking restrooms, sitting around, directing people upstairs, answering the occasional question. But while I was there, I ran into a woman who is the mom of a woman I knew was looking into being on the Conservation Commission. We've been looking for a new member for a while and I put in a good word for the committee "The meetings are well-run. You get a chance to give back to the town. I think she'd be a great fit." I know I may be being overly optimistic, but I truly feel like nearly everyone I know in town is involved in some sort of civic endeavor. Some of the people who aren't might just need a nudge. Talking that sort of thing up can be that nudge. Civics can be catching.