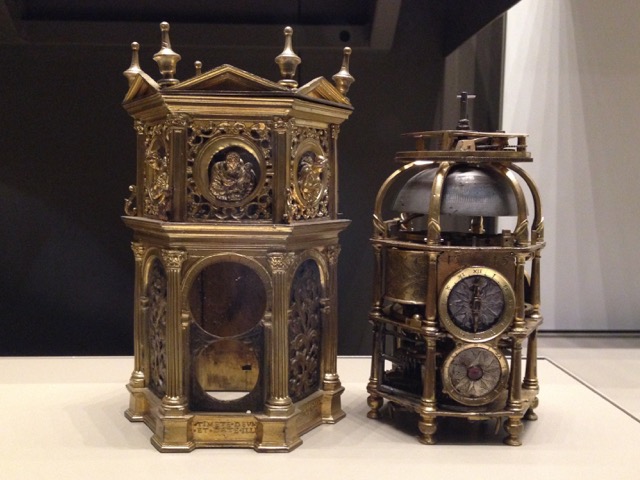 So one of the many many museums that Kate and I went to was the British Museum. It was almost an afterthought. I knew it was full of treasure but we'd been to a lot of great "stuff in jars" museums and had eaten a lot of food and were feeling pretty pleased with everything but we were done with the Wellcome's amazing reading room and Forensics Exhibit (it's like they'd known we were coming) and had some extra time. And speaking of time, the little brochure that you get when you enter the museum suggests some places you can go to chill out if the museum is crowdy and a little suffocating, places that are … less popular. One of these places was the clock and time exhibit. Which … what? It was the best thing! There is something about being in a room full of timepieces that just makes me all shivery and delighted.
So that was the end of the trip. The beginning was the Club Class upgrade as I'd mentioned. In-between we kept a little list of places we'd been. Here is that list with some annotations. Here is a set of 90 photos of the trip, somewhat representative, except for most of the museums.
TESCO – the place we were staying was right near a giant supermarket. We went there often.
Bloomsbury (Lamb Pub) – met up with my friend Deb and her friends as they were on their way to a conference in Manchester.
St Paul's Cathedral – accidentally walked in right before an evening choral recital, lovely
Crystal Palace – no palace is there anymore but it's a great post-apocalyptic seeming big empty space in the middle of London.
Crystal Palace Dinosaurs – worth it! Thanks TimeOut London for the suggestion
Tube – love it
Overground – love it
Horniman Museum & Gardens – sort of a fusty old "things in glass cases" place but had a wonderful garden area and we enjoyed looking at bad taxidermy
Hunterian Museum at RCS – very best things in jars museum. I am so sorry there were no photos allowed
RCS Library – lovely, did not look super busy.
Canada Water Library – this was right near us and a good place to get internet before we got our phones hooked up
Soane's Museum – everyone suggested this, it was a good suggestion
Operating Theater Museum and Herb Garrett – possibly the only museum we paid for, but totally worth it for being weird and quirky (and photos allowed!)
Southwark Park – WE SAW A WILD FOX AND IT WASN'T SICK OR ANYTHING
Victoria and Albert Museum (& Cafe) – Very nice museum, very nice cafe.
Spitalfields (Water Poet) – funky neighborhood with crazy packed bar to start off the MeFi Meetup
Shoreditch – where we wound up for dinner at an Indian place that was terrific
Art Gallery thing – Jan ran into a friend in the street wo had just come out of a gallery and told us to pop in. We did, it was … interesting.
British Museum (& Cafe) – more museums! More cafes! More clocks!
Wellcome Collection & Forensic Exhibit – totally up Kate's alley and I enjoyed it as well. It's nice to go to an exhibit that you feel like you know something about "Hey, the body farm!"
Wellcome Reading Room – the best reading room I've been in, hands down, ever.
Emirates Air Line (Gondola) – a much better deal than the London Eye and with a view that was pretty excellent
Picadilly Circus – wandered in here by accident one evening after dinner and showed up just in time to see Critical Mass ride through, totally charming
I'm still a bit laid out with sinus crud but very happy to have been away and very happy to be home.