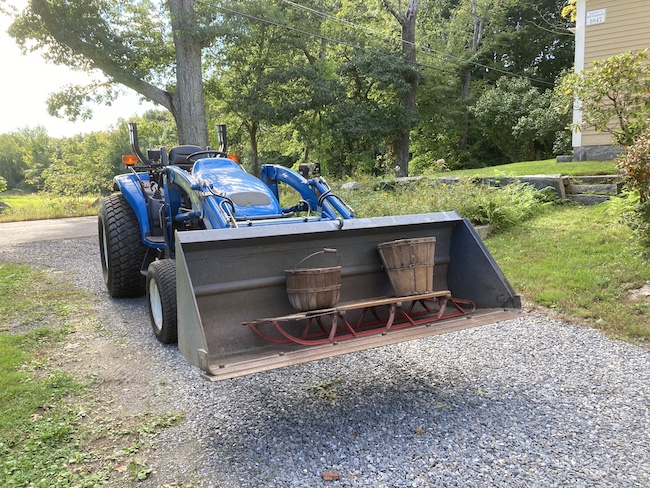 As many of you know, I am cleaning out my mom's house, aka the Magic Castle with my sister and sometimes Jim. What you may not know is just how many people this kind of thing involves. I've been here all day today and I think we spoke to thirteen people all of whom came by the house at some point today and were in a small way part of the process. Here's a list.
– I woke up in the house and texted Kate who came over with coffee.
– While we were having coffee the septic inspector, Lonnie, showed up with the terrible news that the septic will not pass inspection. This was expected, it's ancient, but still a hassle because you need the system inspected to sell it to anyone who wants to get a mortgage. And there's nothing wrong with it, it works, but needs to pass nonetheless. Fixing it is lengthy and costly. Oh well.
– We decided to work out our frustrations by continuing to clean out the barn and while we were in there Bob came by. He was my mom's carpenter and has built or fixed a lot of things around here. He had replaced some stair treads earlier in the week and gave us his opinion on fixing another iffy step on another staircase. When we first inherited this place, he fixed all the six-over-six windows that had cracked glass panes. Good man to know!
– Nancy came by with her grandkids in the car to pick up two old school desks that we're donating to Boxboro's old historic schoolhouse. Her car was full of grandkids so her husband showed up with his truck. Nancy also had a friend with her who was our elementary school janitor's daughter.
– Shannon and Josh stopped by. They had lived in the apartment (this house is a two-family) and were running numbers to see if they could afford to buy this place (not exactly and they had some reasons to stay where they're living in Littleton) but they had seen an old cedar chest in the barn that we said they could have, and came by to pick it up. Shannon had gone to school with Nancy's friend (or her kids? I never know how old anyone is.)
– Jim arrived with burritos and we had lunch. (he is part of the clean-out crew so does not count for the purposes of this list)
– As we're putting more stuff out on the FREE pile out front, two of the up-the-road neighbors showed up, Scott and his wife, and took all the apple baskets we'd left there, and one of the sleds. Said they'd use them for the holiday fair at the local church (the one Kate and I used to go to when we were kids). Tried to sell them on taking a 24′ apple picking ladder (we have one left!) and they may come back tomorrow for one.
– Jamie was a pal of my mom's, and she helped him with a lot of things. He sometimes works on his truck in her driveway and stores a lot of stuff under the barn. He has some challenges and we were a little concerned about telling him we were selling the house, but he came by to move some stuff and we broke the news to him and it went okay.
– I'm still by the FREE pile and Ray walks by. He lives on Pine Hill Road (a few roads away) and doesn't know us but vaguely knew our mom or some other older lady who lived at this house who he talked to once while walking by. He was full of random history bits, appreciated the house for a bit (there is a lot to love) and mentioned some story about the woman he spoke with telling him that this house had been a stop on the Underground Railroad which was news to me so very unlikely to be true.
– Last visitor of the day was Bill, our mom's backyard neighbor who came by with his tractor to give us some plans his surveyor drew up. We're giving him some of the wetlands in the backyard (our properties abut) so that he can preserve his view and in exchange he's been helping us with various things like putting new gravel on the driveway and other TBD stuff. He's paying all the costs but has been keeping us in the loop. It's been a really nice relationship–he was also good friends with our mom–and we sent him home with two apple baskets and… another sled.
Tune in next week to hear about all the guys (so far only guys) who have been helping us with aspects of the actual clean-out!